Welcome to another edition of the newsletter, folks! This week I am trying something different; categorized content! 🎉 I don't have enough content to post a single-threaded article, so I'll be doing surface-level dives on a few significant areas that took up space in my brain this past week.
In Personal News - Househunters
So now that Bridget and I are married, we thought we would settle down and relax for a bit. Well, it turns out that we don't like just sitting around and doing nothing, so we've started poking our heads around different Real Estate open houses.
Both of us are avid users of Zillow - even if we disagree with their previous mass-house-buying strategies - and are constantly checking the few different areas for new homes on the market.
Primarily, we are looking around Buffalo in Western New York and Saranac Lake in the Adirondack Mountains. Both places hold a lot of meaning for our families and relationship, and we are just ready to stop paying rent to landlords who aren't necessarily giving us any value back.
We don't know what we are doing; we barely know the questions to ask these people, but hey! Who knows, maybe we'll find a place we really like without trying too hard.
The market is still bizarre, with high prices and interest growing consistently, so we may hedge our bets and continue renting for some time before committing to buy a house. But it's still never too early to dream 🏡
Bye Bye Birdie
Well, Elon bought Twitter, and it went just about as well as anyone could have predicted:
I'm sad to see where this ends because I know Twitter and many of my peers will be worse off.
I've seen many personalities and accounts posting their Mastadon accounts (which is still a thing?) in case the platform goes down, or everyone leaves it. But at this point, it's just turning out to be an unfortunate process because now it's affecting real people, real fast.
This ordeal may be the final event that will cause me to step away from Twitter, which isn't a bad thing. I've already stepped away from one social media (Instagram), and what's one less social media cesspool run by an egomaniac to be in my life?
Racing Update
It was a wild week in the racing world, so I'd like to show you some of the madness that occurred briefly:
Pouty in the Championship Party
Red Bull overspent their budget and then got upset when people called them out on it, even refusing to talk to the media. To no one's surprise, Max Verstappen has already clinched the title, but I don't think anyone expected this kind of drama around it. I personally believe that the fines and penalties for breaking the budget should be stricter than the $7mil fine and loss of some wind tunnel time. What stops another team from overspending to win the championship? Is that not worth more than $7mil in F1 these days?
The Hail Melon
Ross Chastain pulled off what could be the move of NASCAR's history, passing multiple cars in one tight corner around Martinsville by wall-riding, to secure his spot in the NASCAR Championship Four at Phoenix this upcoming weekend.
You could argue that what he did was stupid, reckless, and insane; he destroyed $100k of a very nice car, but I would also say that the man is a racer who gets sh!t done however needed. Plus, if he defies the odds and wins the championship next weekend, Trackhouse racing will have more than enough prize money to buy a new car…or ten.
This moment isn't just insane because of what Ross did but because of who he is. Ross is a seventh-generation watermelon farmer who lost his chance to race at a high level two or three times a few years back before landing with the newly created Trackhouse racing, partially owned by the Pop Singer PitBull. They are true underdogs, and seeing them excel this year and then do that move has excited everyone and brought a lot of good publicity to the sport.
Enjoy the moment to Freebird because it's just that much more remarkable. Also, props to NASCAR's Race for the Championship for having it in the episode only four days after the race. That is a pretty impressive turnaround.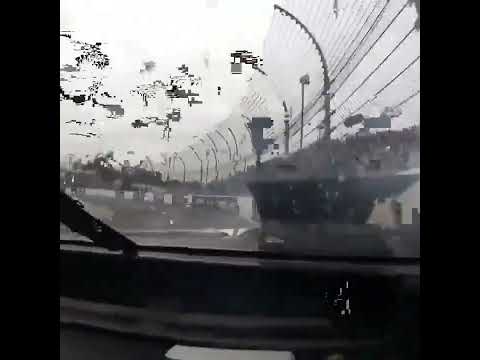 Because of his background as a watermelon farmer, the move is now called The Hail Melon 🍉, a take on the football play The Hail Mary.
---
Go Bills 🔵🔴⚪️, and for a short period while the World Series is occurring, Go Phillies!
Take Care,
Dan